Yoga RYS,E-RYT Certified Teachers
Bhooma Chaitanya (BHOOMAJI)
School Director,
Main Teacher & Yoga Alliance E-RYT – 500
Bhoomaji started practicing yoga in 1988. He has 20 years experience of teaching yoga. Born and educated in Kerala (South India), Bhoomaji entered into the monastic life of renunciation & spirituality at the age of 18. After seven years studying the Sanskrit language and scriptures in Sivagiri Math in Varkala, he moved on to Sivananda Ashram in Neyyar Dam, Kerala – for the intense practice of yoga sadhana (pranayama practice). From the Sivananda Tradition, Bhoomaji completed the Yoga Teachers Training Course and Advanced Teachers Training Course (ATTC) in 1996 and has also completed three Sadhana Intensive courses since then. After completing the ATTC, Bhoomaji lived in a cave for 5 months in Gangotri (the source of the Ganges in the Himalayas) for intensive yoga practice. He has also travelled to France, Spain, Bulgaria, Greece, Cambodia and Malaysia. During his stay in the Sivananda Ashram in Neyyar Dam, Bhoomaji was teaching Yoga, as well as providing his voluntary services in other departments of the ashram. Bhoomaji also studied Sidha Vaidyam (a form of alternative medicine in South India) and Marma Vidya (Pressure Point) from Rajkumar Aashan, in Marthandom, Tamil Nadu. He is registered with Yoga Alliance as an Expert Yoga Teacher. In 2002, he left the ashram and started teaching yoga in various parts of India like Dharmasala, Himachal Pradesh and Kerala, Currently he is running one month 200 and 300 Hour intensive yoga teacher training courses in Panmana Ashram, kollam and in Wayanad. He also visit abroad to take classes and attend various yoga conferences.
A devout disciple of the doyen of Ayurveda, Prof C. R. Agnives, Dr. Nimin Sreedhar hails from a family of modern physicians and traditional healers. He has received special training in medicine and pañcakarma procedures from the renowned Ashtavaidyan, Vaidyamadhom Cheriya Narayanan Namboothiri. An Ayurvedācārya (B.A.M.S) graduate from Nangelil Ayurveda Medical College under Mahatma Gandhi University, Dr. Nimin has been active in the field of Ayurvedic treatment and academics for over a decade.He began his career in the prestigious Kerala Ayurveda Limited as the Medical Officer and later became a part of their Research and Publication department. He was the executive editor of the reputed medical magazine, Vaidyam. He has also edited several books and publications of Kerala Ayurveda. He has authored a book on ayurvedic diet and recipes called 'Mahānasaṃ- Culinary delights of Rajah Ayurveda'.Dr. Nimin is an ardent teacher and has served as faculty for the Mayur University London, Kerala Ayurveda Academy USA, Arsha Yoga Gurukulam and so on. His classes are simple, interactive and utilitarian.Dr. Nimin is also the Head of Literary Research of Ekavaidya Knowledge Services Private Limited, a company that focuses on digital and print solutions to improve ayurvedic learning and increase ayurvedic awareness among the masses. He is an ambassador of genuine Ayurveda and promotes it as a way of life as well as a healing system.
P.S Parameswaran has over 10 years teaching experience. He completed his Yoga Teacher Training Course, Advanced Yoga Teacher Training Course and intensive pranayama course at the Sivananda Yoga Vedanata Ashram, Thiruvananthapuram. He was the Yoga teacher in Engineering college, Chengannur, N.S.S.Ayurvedic Hospitals, Vallamkulam and Aranmula in Kerala. He also worked in Ayurveda Yoga Villa, Wynad, and Sarai Resort, Leh, Ladakh.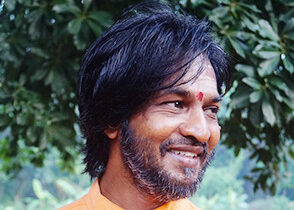 Philosophy & Sanskrit Scholar
Born and educated in Tamil Nadu, Swamiji is a disciple of famous Swami Dayanada Saraswati. He studied Sanskrit language and traditional scriptures from 1992 to 1998 in Arsha Vidya Gurukulams – both in Rishikesh and Tamil Nadu. He was initiated into complete monkhood (Sannyasa) by Swami Dayananda Saraswati in 1998. For the past 12 years, He has been teaching Sanskrit, Vedantic Scriptures, Bhagavad Gita in different places in India and Sri Lanka.